Freezer Jacket ALPINE
Item No.: FTJ25
Thick padded Jacket with quilted lining · outer ripstop fabric with high tear resistance · high stand-up collar with faux fur lining · chest pocket with pen pocket on the left · arm pocket with pen pocket on the left · side pockets lined with fleece · two additional big front pockets above the side pockets · one pocket on the inside closed with velcro · high-strength coil zipper at the front with triangle insert at the end · front zipper with protection for enhanced durability · elastic band in the back at waist height · elastic insert in the armpits · close-fitting elastic cuffs at the end of the sleeves · shoulder and upper arms in fluorescent yellow with reflective piping in the dividing seams · can be used in combination with trousers FTH25 at temperatures down to -49°C · Ideal for: order pickers
Freezer Waist Jacket ALPINE
Item No.: FTB25
Thick padded Jacket with quilted lining · outer ripstop fabric with high tear resistance · high stand-up collar with faux fur lining · chest pocket with pen pocket on the left · arm pocket with pen pocket on the left · side pockets lined with fleece · two additional big front pockets above the side pockets · one pocket on the inside closed with velcro · high-strength coil zipper at the front · front zipper with protection for enhanced durability · elastic band in the back at waist height · elastic insert in the armpits · close-fitting elastic cuffs at the end of the sleeves · close-fitting elastic waistband at hem · shoulder and upper arms in fluorescent yellow with reflective piping in the dividing seams · can be used in combination with trousers FTH25 at temperatures down to -49°C · Ideal for: order pickers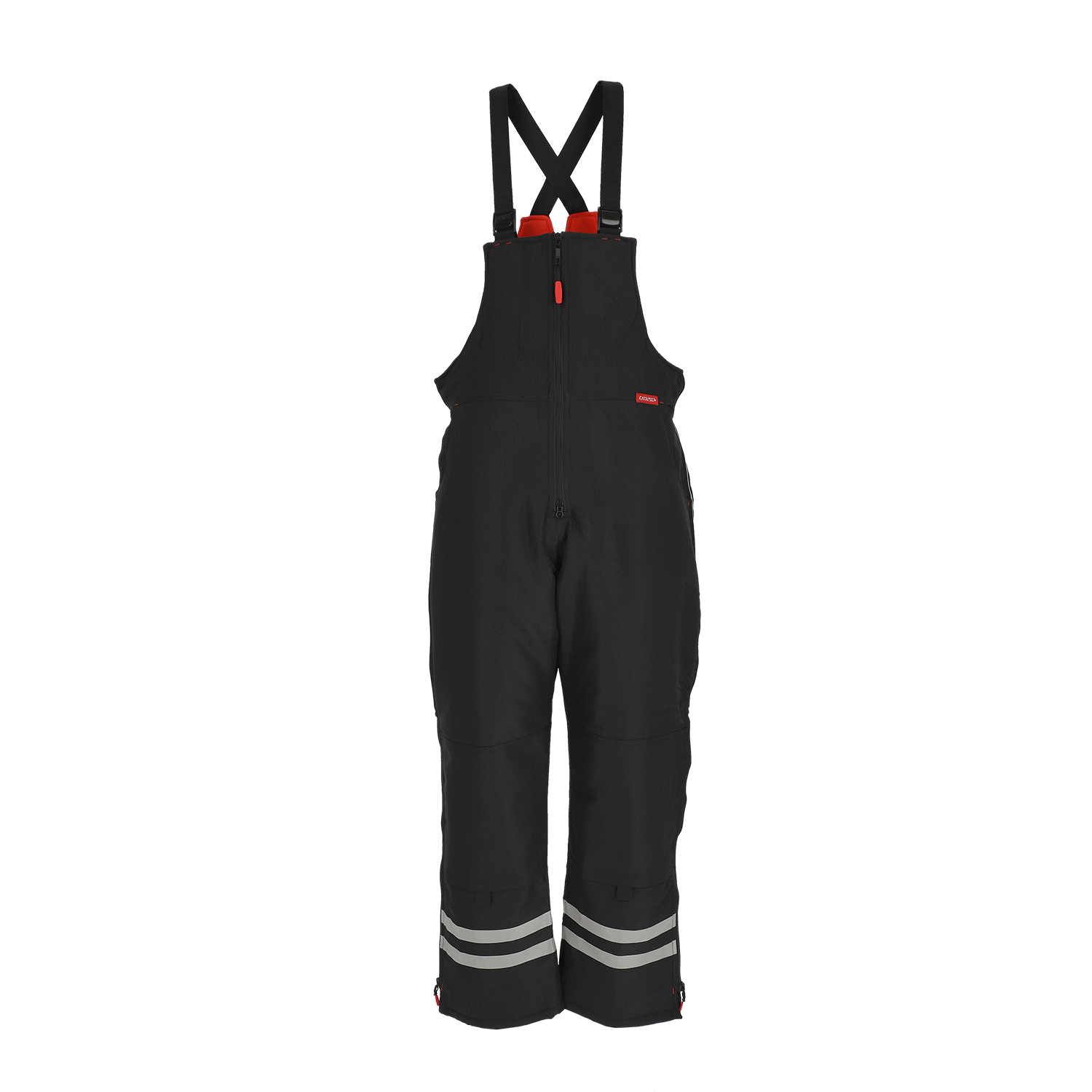 Freezer Trousers ALPINE
Item No.: FTH25
Thick padded trousers with quilted lining · outer ripstop fabric with high tear resistance · elastic & adjustable suspenders · high front bib to warm the belly area · high back bib to warm the kidney area · back bib with "V" cut for better fit · elastic band in the back at waist height · inserted wedge in the crotch for more freedom of movement · big side pockets lined with fleece · knee pockets for additional insertable knee pads · high-strength coil zippers at the front and at the outside legs · reflective piping along the outside of the thighs · can be used in combination with Jackets FTJ25 or FTB25 at temperatures down to -49°C · Ideal for: order pickers
Both ALPINE jackets have a stand-up collar with soft faux fur, a full-length front zip with chin guard and a patch chest pocket with pen pocket on the left.
The jackets also have a practical arm pocket on the left side, which includes a pen compartment. In addition, the yoke and upper arms are designed in an eye-catching, bright yellow colour to ensure better visibility and thus safety.
For a particularly comfortable fit, the waist jacket features an elasticated waistband and back for a custom fit to the wearer. It is also equipped with inset side pockets and knitted sleeve cuffs. A special design element is the red and silver piping in the dividing seams, which provide a sporty look and underline the functionality of the jacket.
The Ideal Equipment for Order Pickers in the Freezer.
---
The ALPINE collection is part of the CATAPULT series by Fortdress, which stands for excellent quality, sporty design, clever functions and robustness. The combination of high-quality materials, precise workmanship and thoughtful design makes the ALPINE collection the ideal choice for anyone working in freezing environments.
Invest in first-class cold protective clothing that meets the highest standards and provides your employees with the comfort and protection they need. With Fortdress ALPINE you are optimally equipped to meet the demands of extremely cold working environments.